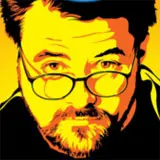 Kevin Smith was on a roll today and I'm not talking about tumbling down a flight of stairs.
The director found time during the production of, or while taking a short break from, A Couple of Dicks starring Bruce Willis, Michelle Trachtenberg, and Seann William Scott to play publicist on Twitter for a handful of upcoming Blu-ray Disc releases.
He started by announcing Chasing Amy and the original Clerks would come to Blu-ray simultaneously in November. Chasing Amy was not a surprise thanks to a previous Smith Tweet, but Clerks caught everyone by surprise.
While fielding questions for that Tweet, he revealed Clerks would be the "X" anniversary edition with the added bonus of the Oh What A Lovely Tea Party documentary from Jay and Silent Bob Strike Back.
Capping Smith's media blitz was the appearance of Miramax box art for a Kevin Smith 3 Movie Collection on Blu-ray Disc packed with Clerks, Chasing Amy, and aforementioned J&SBSB. You can check out the artwork below and expect it in stores in November as well.
A full announcement for all three new titles is expected either tomorrow (Friday) or at Comic-Con next week.