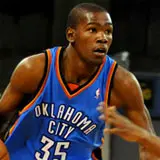 Kevin Durant nearly lead his young Oklahoma City Thunder squad to a game seven against Kobe Bryant and the Lakers. While he won't take home a ring, he is being recognized for his fantastic All-Star year that saw him become the youngest player ever to lead the league in scoring.
Electronic Arts has announced they will feature Durant on the cover of NBA Elite 11 for Xbox 360 and PS3. Says Durant of the deal, "I've always been a fan of EA SPORTS. This has been an exciting year for me and the team, and capping it off with being on the cover of NBA ELITE 11 is cool."
Durant becomes the third player ever to be featured on the cover of an NBA and NCAA video game. He also appeared on the cover of NCAA March Madness 08.
NBA Elite 11 is the new direction for the former NBA Live franchise. It promises to innovate basketball gaming with Hands-On Control that eliminates predetermined animations in favor if true one-to-one player control. It arrives in stores on October 5.