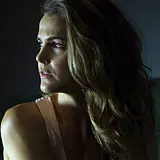 Keri Russell will reunite with Felicity co-creator on Fox's Dawn of the Planet of the Apes.
As first reported by Variety and backed up by the official Apes Twitter account, Russell rounds out the core cast that already includes Gary Oldman, Jason Clarke and Kodi Smit-McPhee. Andy Serkis is set to reprise the role of Caesar who led a great ape escape through San Francisco in Rise of the Planet of the Apes.
Russell starred in Felicity from 1998 to 2002 with Reeves serving as co-creator alongside J.J. Abrams as well as executive producer. Reeves also directed Russell in several episodes.
More recently, Reeves directed his remake of Let Me In while Russell starred in the film Dark Skies and is a lead in the FX freshman Cold War drama The Americans.
Dawn of the Planet of the Apes is said to take place approximately 15 years after the events of Rise and depict a world in which the apes have already become the dominant species over humanity. The story will follow Caesar as he struggles to maintain order in his ape empire, as well as a group of scientists that have managed to stay alive despite the deadly virus that began to spread across the globe at the conclusion of Rise.
The Dawn of the Planet of the Apes screenplay was written by Rick Jaffa, Amanda Silver, Mark Bomback and Scott Burns. Production is expected to get underway this spring with Fox already locking in a May 23, 2014 release.
Source: Variety