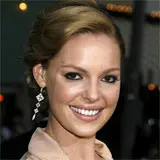 Katherine Heigl is determined to keep herself busy.
Mere days after agreeing to return to Grey's Anatomy for a sixth season, the actress finds herself attached to star in Life as We Know It for Warner Bros. Pictures.
The film connects two unattached adults whose best friend dies and will's them to take care of their newly orphaned daughter. Heigl will play the female lead while the male lead has yet to be cast.
Per Variety, the script has been bouncing around since 2001 and had landed at Fox for a time before eventually up in Warner's hands. A production start date or timetable for release is not yet available.
In addition to returning to Grey's Anatomy and Life As We Know It, Heigl will appear in theaters next summer in The Ugly Truth and is currently filming Five Killers. A vacation is clearly not in her immediate plans.