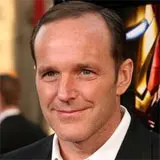 Kate Mara and Clack Gregg have joined John Favreau's ongoing production of Iron Man 2 per The Hollywood Reporter.
Gregg returns to the small role of Agent Phil Coulson of S.H.I.E.L.D. he played in the first Iron Man. In other words, he gets to point a gun while Tony flies around in cool armor.
Mara's role is being kept under tight wraps. Given her age there's a chance she could be playing a daughter to an older character. Or maybe she's in cahoots with Scarlett Johansson's Black Widow somehow.
Let the speculation begin!