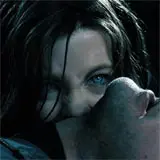 Kate Beckinsale's return in skin-tight black leather proved to be a winning combination for Underworld Awakening in its box office debut on Friday.
Underworld Awakening easily cruised to the top spot at the box office on Friday in pulling in $9.4 million in ticket sales in its first 24 hours of release. That's $1.4 million than the $8 million Underworld: Rise of the Lycans mustered its first day, though that film lacked the aforementioned Kate Beckinsale save for a brief cameo appearance at the end. At its current pace, Underworld Awakening should pierce the $20 million mark and possibly begin rumblings of a fifth film in the series.
George Lucas fought for decades to get his tribute to the Tuskegee Airmen into theaters. Despite a healthy dose of visual effects and World War II dogfights, Red Tails was ultimately shot down by the vampires and Lycans of Underworld Awakening.
The $6 million grossed by Red Tails actually comes in above Fox's cautious estimates and point toward a mid-teens opening weekend. Lucas has gone on record as saying he would have loved an opening weekend above $20 million for Red Tails, but it looks like these fighters will run out of gas before reaching that mark.
Third place on Friday went to holdover Contraband with $3.7 million. That was just enough to inch past the third newcomer, Extremely Loud and Incredibly Close with Tom Hanks and Sandra Bullock, which made $3.2 million in its first wide weekend of release. The post-9/11 drama had been playing in limited release for the past month.
The final newcomer, Steven Soderbergh's Haywire, landed in fifth place with $2.9 million. It is not likely to crack $10 million through the weekend and instead will look for revenue from Blu-ray and DVD in a few months.
Check back Sunday afternoon for the complete weekend box office studio estimates.