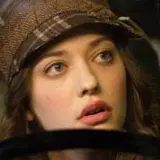 Kat Dennings was responsible for many of the one-liners jokes in Marvel's Thor after the Asgardian was banished to earth. It looks she'll be back to dish out more comedy in Thor: The Dark World.
Deadline is reporting that not only will Dennings be back to reprise Darcy, her role will be expanded in some unknown capacity. In other words, she is expected to do a lot more in the sequel than play sidekick to Natalie Portman's Jane Foster.
Kat Dennings stock has risen dramatically since her small role in Thor. She joined the CBS comedy 2 Broke Girls last fall and it became one of the hottest comedies on television. That added exposure makes Dennings' much more marketable, which in turn should have her character play a more integral role in Thor's next adventure.
Thor: The Dark World is ramping up for production under the direction of Game of Thrones veteran Alan Taylor. Dennings will be joined by fellow returning cast mates Chris Hemsworth, Natalie Portman, Tom Hiddleston, Idris Elba, Anthony Hopkins, Stellan Skarsgard, Jaime Alexander, Ray Stevenson and Rene Russo.
Marvel will release Thor: The Dark World in theaters on November 8, 2013.
Source: Deadline