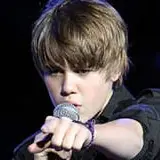 Justin Bieber: Never Say Never will be re-released this Friday, February 25 in a new "Director's Fan Cut" an unprecedented three weeks after the film first debuted in theaters. It will remain in theaters for only one week and then disappear, likely not to be seen again until the Blu-ray and DVD release.
This new cut of the film will have a 115-minute run time and include approximately 40 minutes of all-new footage presented in 3D where available. If this sounds like milking Bieber fans it kind of is, but it also marks a revolutionary fusion of social media and film that could have repercussions on the industry.
According to the Paramount press release announced this new "Director's Fan Cut" that went out today, director Jon Chu has been developing this second cut of the film for several months. The idea stemmed from the sheer amount of footage he left on the cutting room floor and Bieber fans' appetite for social media.
Rather than making an alternate cut based solely on his own preferences, Chu spent hours upon hours interfacing with fans on Twitter and Facebook immediately after the film was released. From the feedback he learned that fans wanted to see more of Justin's friends, more of his hometown life, more footage from fan events shot around the country, and more of his newer songs. He took these fan requests and recut the film to appease them.
This technique wouldn't work on a rigid scripted film versus a documentary culled together from random footage but it might work for new cuts of films that are introduced on the Blu-ray and DVD editions where there is ample time to make the edits based on social media feedback. It would be the equivalent of the filmmakers and studios collecting feedback from early rough cut screenings to make adjustments, only the sample audience would be much, much bigger in size.
We'll find out soon enough whether Chu's new Justin Bieber: Never Say Never "Director's Fan Cut" is a success based on the feedback he receives from those same fans who helped indirectly select the new footage and tickets sold at the box office. If this does work then I'd expect other filmmakers to tweak and improve upon the concept.
Advance tickets for Justin Bieber: Never Say Never "Director's Fan Cut" are now on sale at select theaters.