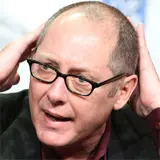 Joss Whedon is a busy man what with ABC's Marvel: Agents of S.H.I.E.L.D. getting ready to premiere and Avengers: Age of Ultron creeping up on start of production. That's probably why it has taken the writer/director a little bit of time to comment on his casting of James Spader as the villain Ultron, and more specifically, explain why Spader was chosen for the role.
Marvel's own web series "The Watcher" got to deliver Whedon's first Spader as Ultron comments via host Lorraine Cink. As expected, there was no other actor considered for the part.
"Spader was my first and only choice," said Whedon through Cink. "He's got that hypnotic voice that can be eerily calm and compelling, but he's also very human and humorous. Ultron is not HAL. Spader can play all of the levels. He's the guy to break the Avengers into pieces!"
Whedon ends his quote with an evil laugh.
What Whedon is saying in a nutshell is that Ultron will have a personality and not be a cut-and-dry robot pushing buttons because he can. He's also saying that The Avengers as a team will be broken, most likely even more so than they were when taking on Loki and his mind-controlled minions.
Watch Cink deliver the news below.