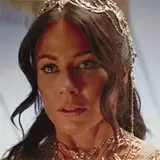 Disney this morning released the first trailer for John Carter, the upcoming sci-fi film based on Edgar Rice Burroughs' first novel A Princess of Mars.
My initial reaction to this first John Carter footage is mixed. I like the look of Taylor Kitsch as the lead even if he slightly resembles Dastan from Prince of Persia with the swords and attire. Kitsch stood out in X-Men Origins: Wolverine and seems primed to carry the weight of a big film on his shoulders.
The effects work in the trailer looks absolutely stunning. However, the Martian landscape looks more like New Mexico than another planet. Maybe my mind has been trained by Total Recall to expect red to dominate the landscape. Some of the Mars shots look way too Earth-like.
In director and co-writer Andrew Stanton of Pixar fame I place my trust. If anyone can elevate a story into excellence, he can.
John Carter (formerly John Carter of Mars; Disney likely dropped the Mars after the Mars Needs Moms debacle) is due in theaters on March 9, 2012. Along with Kitsch it stars Lynn Collins, Samantha Morton, Mark Strong, Ciaran Hinds, Dominic West, James Purefoy, Daryl Sabara, Polly Walker, Bryan Cranston, Thomas Hayden Church and Willem Dafoe.