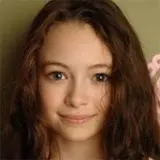 Young but far from inexperienced actress Jodelle Ferland has landed a role in The Twilight Saga: Eclipse per a report at Variety.
The Fourteen year-old actress will join cast members from The Twilight Saga: New Moon and newcomers Bryce Dallas Howard and Xavier Samuel when filming commences on Eclipse later this month.
Her role is described only as "a vampire who has just been turned" in the report, leaving the door open to speculate on exactly which character she will portray. Feel free to share your guesses in the Comments below.
Ferland's resume is far beyond her years, stretching back nearly a decade with her next appearance in Case 39 with Renee Zellweger bowing in theaters this September. She has also already completed filming a role in The Cabin in the Woods, a thriller coming in 2010 from Dollhouse creator Joss Whedon.