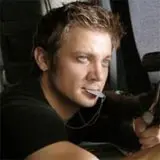 Mad Max 4 has been in limbo since the project was scuttled in 2002 with Mel Gibson set to return as Mad Max in Fury Road. Since then, George Miller has had the film on his back burner while Mel Gibson, amidst growing older, has determined his days of leather pants in the desert are behind him.
In order for there to be a Mad Max 4, the role will have to be recast. According to an interview with Jeremy Renner at The Modesto Bee, that is exactly the plan Miller is intent on executing.
When asked the blanket question of what lies ahead during an interview for The Hurt Locker, in which Renner co-stars, he included in his response, "I'm also fighting to do the new Mad Max film with George Miller. That might be next summer. I'm screen-testing and meeting George Miller."
Miller has yet to confirm any Mad Max screen tests but at the same time, Renner has no reason to blatantly concoct such a claim. With Miller hard at work on Happy Feet 2, it is hard to imagine Mad Max making its way into production by next summer unless other signs of pre-production emerge.
What do you all think about the iconic Mel Gibson role going to another actor? Without knowing anything about Miller's plans, I'd just assume let the character's legacy end with Mel's decision to not return.
Source: The Modesto Bee via AICN.