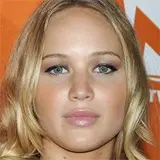 Variety is reporting that Lionsgate has chosen Jennifer Lawrence to play Katniss Everdeen in The Hunger Games movie adaptation. Negotiations between the studio and actress to finalize and seal a deal are expected to commence this week.
The Hunger Games is the first film based on the three-book young adult series by Suzanne Collins. In the series, Katniss lives in a dystopian future where one boy and one girl are selected to right to the death in a televised event. Katniss is able to survive in the games using her outdoor and hunting skills that feature a bow and arrow.
Jennifer has long been considered a frontrunner to star as 16-year old Katniss in The Hunger Games along with much younger Hailee Steinfeld and Abigail Breslin. Age played a big factor in Lionsgate and director Gary Ross' direction as they chose to go older with 20 year-old Jennifer given the recognizable talent pool available to cast her love interest Peeta and other key roles in their late teens and early 20s versus pre and early teens.
Lionsgate previously worked with Jennifer on Winter's Bone with garnered the young actress a Best Actress nomination at the Academy Awards. She'll next be seen in Fox's X-Men: First Class as a young Mystique and is still expected to star in Oliver Stone's Savages whether she agrees to terms with Lionsgate on to The Hunger Games or not.
Lionsgate is hoping The Hunger Games will become the next Twilight and capture the lucrative tween audience that propelled that franchise to earn millions upon millions in profit for its distributor Summit Entertainment.
The Hunger Games is expected to begin shooting in the coming weeks to meet an aggressive March 23, 2012 release date.
Source: Variety