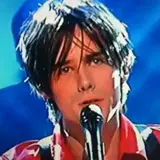 Director Jake Scott (Welcome to the Rileys, son of Ridley Scott) has found his Jeff Buckley in what will surprisingly become one of three films based on the musician's short life.
Scott has cast Reeve Carney, star of Broadway's Spider-Man: Turn off the Dark, to play the musician who was tragically killed in 1997 in a boating accident. Twilight star Robert Pattinson had openly expressed strong interest in the part, but ultimately Scott got his man in Carney. The untitled biopic is expected to begin shooting in November of this year.
Two other film projects based on Buckley's life are also about to get underway, though Scott's has exclusive rights to Buckley's music archive and will likely be the most marketable. Greetings From Tim Buckley from director Dan Algrant and starring Penn Badgley (Gossip Girl) begins shooting next week and will be the first film out the gate. It will focus on Buckley's pre-fame life and reconnection with his estranged father during a tribute concert.
The third Jeff Buckley-themed film, A Pure Drop, is based on the book 'A Pure Drop: The Life of Jeff Buckley.' Aussie Brendan Fletcher is directing though no one has been cast in the project as of yet.
Source: Deadline