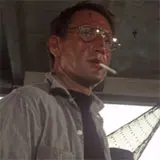 One of the most anticipated Blu-ray releases in the second half of this year is the debut of Steven Spielberg's Jaws from Universal Home Entertainment. Jaws has sat up near the top of the most-requested Blu-rays for many years, and finally it will swim ashore in just over three months.
We've spotted a new Jaws Blu-ray trailer swimming around YouTube that offers a first indication of how the classic film will appear on Blu-ray if you switch the resolution to 1080p. In short it looks fantastic from this early tease and is a must-own for every Blu-ray collection come August 14.
You can check out all the details about the Jaws Blu-ray including the cover art (featuring the one-sheet poster art), bonus features and tech specs in our Jaws Blu-ray announcement article. The new Jaws Blu-ray trailer is ready for you to watch below.
Click here to pre-order Jaws on Blu-ray for $19.96 at Amazon.com, 33% off the $29.98 list price.