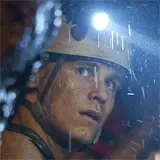 Universal Studios Home Entertainment has slated June 7 to bring the James Cameron executive produced R-rated underwater thriller Sanctum to Blu-ray 3D, Blu-ray 2D and DVD.
Universal heavily marketed Sanctum's 3D effects and James Cameron tie-in when it was released theatrically in early February. Despite those efforts, Sanctum only managed $9.4 million its opening weekend and left theaters having amassed $23.2 million in North America. Overseas business was marginally better at around $48 million.
Sanctum, directed by Alister Grierson, is based on a true story and stars Ioan Gruffudd, Richard Roxburgh and Rhys Wakefield. It will be presented on Blu-ray in 1080p video and 5.1 DTS-HD Master Audio. The bonus features are as follows:
Nullarbor Dreaming (HD) – A documentary that follows a team of cave divers and their fateful exploration of a giant cave system in Western Australia.
Deleted and Extended Scenes (HD)
Sanctum: The Real Story (HD) – A look at the terrifying real-life adventure that inspired the film, plus a look behind the scenes of the making of Sanctum.

How It Began
Making The Movie
In the Aftermath

Commentary with Director Alister Grierson
Commentary with Co-Writer/Producer Andrew Wight
Commentary with Actor Rhys Wakefield
Check back regularly for Sanctum on Blu-ray and Blu-ray 3D pricing and cover art.