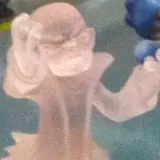 A quartet of new Skylanders domain names have been registered by the same service that has registered all of Activision's previous Skylanders domains, MarkMonitor's WHOIS privacy service DNStination, as spotted by Fusible. Is one of these new domain names the actual name for Skylanders 3? I think so, but before I delve into specifics, please be aware that Skylanders Giants plot points will be discussed in the text below.
In other words, a spoiler warning applies from here on out.
The pre-credits closing scene of Skylanders Giants sees Master Eon's giant floating head advising players that the adventure with Skylanders and Skylanders Giants has only just begun and new adventures are coming soon. Well, obviously, considering the franchise has passed $500 million in retail sales and filled the gap at Activision that the now defunct Guitar Hero franchise left.
If you sit through the seemingly endless credits, a brief post-credits scene shows Kaos and Glumshanks return to Kaos' castle after their defeat. There Kaos hatches several new ideas for taking over Skylands, but before he can rattle them off, an ominous shadow towers over the overconfident lord and his humble servant. It's Kaos' mother, and he and Glumshanks look like they soiled themselves in her presence.
With that in mind, here are the four domain names that were registered on January 31:
SkylandersKaosAlliance.com
SkylandersNanoForce.com
SkylandersSuperForce.com
SkylandersSwapForce.com
Let's start with Skylanders Kaos Alliance. In my opinion, this is the actual name for Skylanders 3. Think about it; Kaos' mother is back and clearly he has some mommy issues. Mommy is likely perturbed that her underachieving son has failed – yet again – and sets out on her own path of destruction and revenge. Kaos isn't cool with mommy stepping on his little feet and reluctantly enlists the help of the Skylanders, Flynn, Cali and the whole group to stop the maternal menace, thus the "Kaos Alliance."
Those of you who follow us and our Skylanders coverage know that I published images of a Kaos action figure from the Toys For Bob headquarters last fall. I was told that the figure was made for fun. If it was, then why was there more than one of them in a display case alongside confirmed figures?
An alliance with Kaos means that Toys for Bob can do what I thought they would for the second game; introduce villains as toy figurines. Not only would this route mix-up the gameplay and offer something fresh ala Giants, but it would also give kids the opportunity for their physical Skylanders and Skylanders Giants toys to "battle" against their arch enemy and let the plastic clash.
So what about the other three domains? Notice how they all end in "Force." I suspect these will be a subset of the main Skylanders figures. "Nano" could mean smaller Skylanders which would contrast nicely with the Giants, "Super" could be Skylanders with unique added abilities, and "Swap" could be Skylanders with sharable parts. Or, as some have speculated, these could be three separate Skylanders games for mobile or other platforms. I tend to think they tie into Kaos Alliance.
As I reported yesterday, Activision is holding a big Skylanders event on Tuesday, February 5 at the Toys R Us in Times Square. Toy Fair 2013, which Activision is attending, kicks off five days later on February 10 and we will have a correspondent there to check out the booth.
I'm stretching the speculation here, but I think the odds greatly favor a Skylanders 3 announcement between these two dates. In fact, last year Skylanders Giants was officially announced on February 7 while Toy Fair did not get underway until February 12, five days later. Now match up last year versus this year. See the pattern? If I'm right, we'll be hearing about Skylanders 3 within the next few days.
So there you have it. My prediction is Skylanders 3 will be called Skylanders Kaos Alliance, we will finally get villain toys, there will be subsets of Skylanders with different "Force" powers, and we'll be hearing all the juicy details sooner rather than later.
– Dan Bradley
Domains Source: Fusible