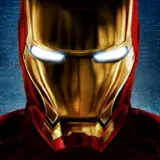 Paramount Home Entertainment has finally unwrapped the details to Iron Man's Blu-ray arrival previously confirmed for September 30.
Iron Man will be presented as an Ultimate Edition two-disc set on Blu-ray in widescreen 1080p video and 5.1 Dolby TrueHD audio.
Blu-ray owners will benefit from several supplemental features that won't be found on the single or two-disc DVD sets. "Hall of Armor" will let reviewers zoon in on and study the three Iron Man suits or Iron Monger, then activate a 3-D weapons schematic to see what each suit is packing in terms of firepower.
Also exclusive to Blu-ray is Iron Man IQ, a BD-Live feature allowing viewers to create their own custom multiple-choice questions based on clips from the film and then share them as a working test with friends online.
The full list of over four-hours of bonus features is as follows, most of which is presented in HD.
Disc 1:
Hall of Armor (Blu-ray exclusive)
The Invincible Iron Man (HD)

Origins
Friends & Foes
The Definitive Iron Man
Demon in a Bottle
Extremis and Beyond
Ultimate Iron Man

Deleted/Extended Scenes (HD)
BD Live: Iron Man IQ (Blu-ray exclusive)
Disc 2:
I Am Iron Man (HD)

The Journey Begins
The Suit that makes the Iron Man
The Walk of Destruction
Grounded In Reality
Beneath the Armor
It's All in the Details
A Good Story, Well Told

Wired: The Visual Effects of Iron Man (HD)
Robert Downey Jr. Screen Test (HD)
The Actor's Process (scene rehearsal with cast) (HD)
The Onion "Wildly Popular Iron Man Trailer to be Adapted into Full Length Film" (HD)
Theatrical Trailers (HD)
Image Galleries
Iron Man: Ultimate Edition will carry an SRP of $39.99.
Click here to secure your copy of Iron Man on Blu-ray Disc via pre-order for only $27.95 from Amazon.com.