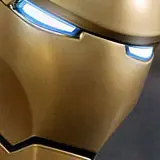 After 71 days of shooting, principal photography on Iron Man 2 came to a close on Saturday, July 18. Like any good director proud of his troops, Jon Favreau climbed a ladder on the set after the final take and thanked the crowd for a job well done.
"Shooting Iron Man 2 was a fantastic experience and we couldn't be happier," President of Marvel Studios Kevin Feige told Marvel.com after the speech. "Although there were many challenges in making this film, having Jon Favreau, Robert Downey, Gwyneth Paltrow and almost the entire crew from the first film back on board, allowed us to hit the ground running as everyone was instantly familiar with each other from day one."
When praising the newcomers to the cast, Feige went out of his way to lavish Don Cheadle with an extra pat on the back. What did Cheadle endure that Scarlett Johansson, Mickey Rourke, Sam Rockwell did not? Consider my curiosity regarding James 'Rhodey' Rhodes' Iron Man 2 role piqued.
Next up for Iron Man 2 is the debut of the first footage, via clips or a teaser trailer, at Comic-Con later this week. Needless to say the pressure is on for Favreau and company to deliver.