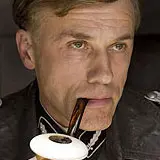 Inglourious Basterds behind the star power of Brad Pitt and strong performance of Christoph Waltz proved to be a glorious return to form for director Quentin Tarantino with a fat estimated $14.3 million box office share on its opening Friday including Thursday midnight screenings.
The impressive one-day ticket receipts narrowly bested Neill Blomkamp's District 9's $14.2 its opening Friday. If Basterds can follow District's pace it should easily top $30 million by Monday morning.
Basterds bashed the heads in of its newcomer competition with Robert Rodriguez's family friendly Shorts managing $2.1 million, Post Grad with Alexis Bledel a hair over $1 million, and Disney's X Games 3D: The Movie $277k.
Second place on Friday went to District 9 with $5.5 million which brings its domestic gross to the $60 million mark. G.I. Joe: The Rise of Cobra took third with $3.6 million carrying it across the $111 million mark.
Check back tomorrow for the weekend box office wrap.