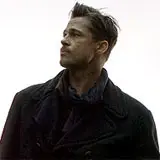 Universal Pictures and The Weinstein Company rang in the new year by co-announcing Quentin Tarantino's Inglorious Basterds (not Bastards) will be released in the US and Canada on August 21, 2009.
Inglorious Basterds, based on the 1978 World War II movie "Quel maledetto treno blindato" which translates to Inglorious Bastards, has been shooting since October on-location in Europe. Tarantino is expected to put his own Spaghetti Western twist on the story with glorified violence and surreal qualities.
Brad Pitt stars as a US Army Lieutenant leading a band of soldiers operating behind enemy lines. Amongst Pitt's co-stars are Eli Roth and Mike Myers.
Inglorious Basterds marks the first directorial effort from Tarantino since Kill Bill Part 2 over four years ago.