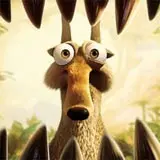 Fox is guessing dads out there have been asked what they want to do for Father's Day and since football doesn't start for another couple months, answers have been unanimously "uh, I dunno."
To help offer dads an alternative to sitting around comatose or braving long waits at restaurants, Fox is holding a special Father's Day screening for Ice Age 3: Dawn of the Dinosaur this Sunday.
The screenings will take place in 330 theaters across the nation and all will be in 3-D. To find out if a theater in your area is participating — and one likely is considering the coverage — head over to this Ice Age 3 sneak preview website.
Ice Age 3: Dawn of the Dinosaurs will open wide on July 1.