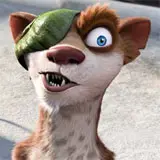 A moderate chill fell upon the box office on Saturday due to the July 4 holiday but in the end Ice Age: Dawn of the Dinosaurs and Transformers: Revenge of the Fallen each came away winners.
Early box office estimates show Ice Age 3 and Transformers 2 in a dead heat for Friday through Sunday weekend box office receipts with each blockbuster totaling $42.5 million. Final numbers due Monday should put one flick in front of the other, even if by a hair. Look for those numbers on Monday.
For Transformers 2, the domestic box office total now stands at a healthy $293.4 million coming in just a few million shy of the $300 million barrier. Had July 4 not been a holiday it likely would have zoomed right by before Monday. Tack on $298 million in overseas ticket sales and Transformers 2 is sitting pretty at $591.4 million, well on its way to a spot amongst the all-time box office leaders.
Ice Age 3, which opened Wednesday, now stands at $67.5 million domestically and $148 million worldwide, a new record for a CGI-animated feature. The other newcomer, Public Enemies, has amassed $41 million through its first five days.
The Hangover crossed a milestone this past weekend by hitting the $200 million mark at 204.2 million, while The Proposal is closing in on $100 million with its current $94.2 million cume and will likely hit the magic number sometime this week.
The complete box office results for July 3-5 are as follows:
Next weekend Sacha Baron Cohen's Bruno will open in over 2700 theaters and attempt to shock its way past Ice Age 3 and Transformers 2. I Love You, Beth Cooper with Heroes' Hayden Panettiere will open on 1900 screens and hope to pick up The Proposal's romantic comedy audience.