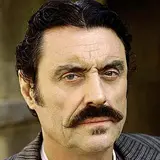 Former Deadwood actor Ian McShane is currently in negotiations with Disney to star as the villain in Pirates of the Caribbean: On Stranger Tides.
Per THR, McShane would play the legendary pirate Blackbeard and theoretically sail the Queen Anne's Revenge pirate ship. He would join Johnny Depp as Captain Jack Sparrow and newcomer Penelope Cruz as Sparrow's "equal and foil."
The plot is expected to revolve around searching for the Fountain of Youth, a treasure any pirate would surely kill for. Filming gets underway on-location this summer in Hawaii.