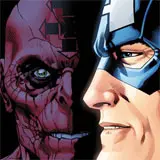 Nearly two months after word first broke that Hugo Weaving was in negotiations to join Joe Johnston's take on Captain America: The First Avenger, Marvel Studios today finally confirmed the man who brought cold terror to Agent Smith in The Matrix had scored the role of Cap's nemesis, Johann Schmidt aka Red Skull.
Weaving joins Chris Evans as Steve Rogers/Captain America, Samuel L. Jackson as Nick Fury, Hayley Atwell as Peggy Carter and Sebastian Stan playing Bucky as officially joining the cast list. Tommy Lee Jones is reportedly in negotiations for a role with more casting announcements expected in the coming weeks as filming is scheduled to start later next month.
Captain America is set primarily during World War II where Steve Rogers volunteers to participate in an experimental government program that turns him into a Super Soldier aka Captain America. If you make it to Iron Man 2 this weekend, you'll get a good look at a pre-1980s prototype for Cap's shield in a humorous inanimate object cameo.
Captain America: The First Avenger arrives in theaters July 22, 2011.
Source: MTV