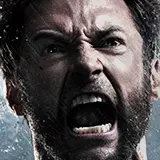 Fox's The Wolverine had all the makings of another comic book movie hit. With Hugh Jackman donning the claws and mutton chops again, a second straight $80 million-plus opening seemed bankable. That's not at all what has happened.
Fox was bullish Thursday evening when The Wolverine got off to a hot start with $4 million during late night and midnight showings. Though tracking had slipped throughout the week, the early turnout painted a positive picture headed into the weekend. Unfortunately, Friday's estimates are pointing toward $21 million, which would put The Wolverine's opening weekend at $60 million or less – a far cry from the $85 million tallied by X-Men Origins: Wolverine.
Why did this happen, especially with a CinemaScore rating of "A-" thus far? For starters, Jackman is the only recognizable X-Men cast member in the film, while Origins had numerous X-Men that audiences were already familiar with. Audiences have also seen a lot of Wolverine in four previous X-Men films, so a fifth time with Logan in the limelight might have been too much, too soon. Critical reaction to The Wolverine is besting its predecessor so I would expect home video sales to make up some of the slack.
Pre-order The Wolverine on Blu-ray and DVD for a discount price at Amazon.com.
Last week's champ The Conjuring played strong again with $7.4 million on Friday and now stands at the cusp of crossing $70 million in just over a week. Look for The Conjuring to cross the $100 million milestone by the end of next week or weekend.
Despicable Me 2 is closing in on $300 million domestically after landing in third on Friday with $4.8 million. It best out the animated competition of Turbo, a newer film, which finished in fourth place with $4 million and has now earned $46.5 million to date.
Grown Ups 2 wraps the top five with $3.7 million and has now tallied $93.8 million so far. It will laugh its way past $100 million by Sunday and spark conversation about a third entry in the Adam Sandler and his pals comedy franchise.
Check back Sunday to see if Hugh Jackman as The Wolverine was able to get over the $60 million hump.