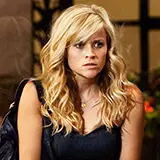 The James L. Brooks romantic comedy How Do You Know didn't know how to attract big business at the box office, but it hopes to fare better when arriving on Blu-ray Disc and DVD on March 22.
How Do You Know sputtered its opening weekend to the tune of only $7.5 million behind a strong ensemble cast featuring Paul Rudd, Reese Witherspoon, Jack Nicholson and Owen Wilson. It barely cleared the $30 million mark before exiting theaters despite costing upwards of $120 to produce.
Sony still plans to support the home video debut and is including numerous features on the Blu-ray as listed below:
Interactive Script Gallery
Commentary with Filmmakers
Select Scenes Commentary with James L. Brooks and Owen Wilson
Deleted Scenes Commentary by James L. Brooks
Optional Commentary with James L. Brooks
"The George"
Blooper Reel
Extra Innings
A Conversation with James L. Brooks and Hans Zimmer
Click here to pre-order How Do You Know on Blu-ray for $24.49 at Amazon.com.