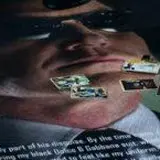 Hot Toys dropped an unexpected surprise this morning with teaser images for 1/6 scale figures for Agent Phil Coulson (Clark Gregg) and a Chitauri Footsoldier from Marvel's The Avengers. Each figure's prototype will debut at the annual Ani-Com & Games Hong Kong event this Friday.
Agent Coulson comes equipped with the massive S.H.I.E.L.D. experimental gun engineered from The Destroyer. If you look closely at his feet in the image below (click it to enlarge), you can also see a deck of the vintage Captain America trading cards that played an integral role in The Avengers assembling.
The Chitauri Footsoldier isn't as far along in the development stage and looks like a completed sculpt at this point. With the core six Avengers figures already announced, he will play an integral role sitting alongside Loki on shelves across the world.
Click any of these links for images and pre-orders of the Hot Toys The Avengers 1/6 scale figures: Captain America (Chris Evans), Thor (Chris Hemsworth), Nick Fury (Samuel L. Jackson), Hawkeye (Jeremy Renner), Black Widow (Scarlett Johansson).
Also at Ani-Com, Hot Toys will at long last offer a full reveal of the 1/6 scale The Hulk (Mark Ruffalo) and Iron Man Mark VII (Robert Downey Jr.) figures. They will also debut Catwoman (Anne Hathaway) and the humongous The Bat vehicle from The Dark Knight Rises. I shudder to think what that beast will cost.