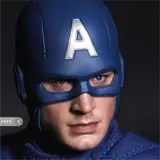 The third sixth scale figure in Hot Toys The Avengers line has been revealed, and it's probably the best likeness yet – and that's saying something.
Below are images of the movie-accurate version of Captain America as seen in Marvel's upcoming The Avengers, designed to resemble actor Chris Evans who plays the part in the film. It includes a newly developed helmeted head, a newly developed alternate head without helmet, the iconic shield in clean and damaged versions, and an alien weapon, in addition to many individual pieces of clothing and 9 interchangeable gloved palms.
The Chris Evans likeness on this thing is pretty freaky. Squint your eyes and several of these images might as well be publicity photos taken on the set.
In addition, distributor Sideshow Toys has revealed a teaser image of Thor in the likeness of Chris Hemsworth, as he will appear in The Avengers. It looks like this version of Thor will borrow heavily from the previously released figure designed for the Thor film given the sleeve armor.
Captain America and Thor join previously unveiled Nick Fury (Samuel L. Jackson) and Hawkeye (Jeremy Renner). Still to come are Iron Man (Robert Downey Jr.), Black Widow (Scarlett Johansson) and the big guy Hulk (Mark Ruffalo). I'm guessing Hulk will cost substantially more than any of the others, be the last one revealed, and be the one that sells out first. Nick Fury will ship first in June, followed by the rest on a monthly basis.
Click here to check out or lock in a pre-order for Captain America and the other Hot Toys Avengers at Sideshow Collectibles.