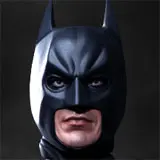 The Hot Toys Batman 1/4 scale figure from The Dark Knight Rises is now available for pre-order at Sideshow Collectibles.
Priced at $469.99, this Batman stands 18.5 inches high, over 6 inches higher than the Hot Toys Batman DX 1/6 scale figure, and comes loaded with accessories. They include three heads (Batman with PERS eyes, Batman with sonar vision light-up eyes, Bruce Wayne modeled after Christian Bale), 1 pair of fists, 1 right relaxed palm, 1 left open palm, 1 right palm for holding grapnel gun, 1 left half open palm, 1 newly developed complex Batsuit featuring fabric costume covered with armor, 1 cape, 1 flight pack, 1 utility belt with accessories, 1 pair of forearm gauntlets, 1 pair of black boots, 1 grapnel gun with bullets, 1 transformable sticky bomb gun, 1 functional ultrasonic cutter, 1 functional radiation detector, 1 light-up EMP gun, 3 batarangs, 1 miniature mine, and 1 movie logo figure stand imitating the movie scene with the masks of Bane, Joker and Scarecrow.
Sideshow Collectibles is offering an exclusive Batman mask if you pre-order the exclusive version directly through them. They are also offering the standard version for the same price.
Hot Toys is expecting to ship their The Dark Knight Rises Batman 1/4 scale figure in May 2013. That gives anyone interested in locking in their pre-order now plenty of time to save up.
Click here to pre-order the Sideshow exclusive Hot Toys Batman The Dark Knight Rises 1/4 scale figure with exclusive Batman mask for $469.99.
Click here to pre-order the Hot Toys Batman The Dark Knight Rises 1/4 scale figure non-exclusive edition for $469.99.