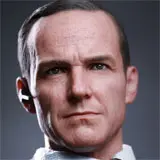 The Avengers buzz may have died down a tad, but isn't stopping Hot Toys from continuing to produce 1:6 scale product from the huge Marvel and Disney hit. Next up for pre-order will be S.H.I.E.L.D. Agent Phil Coulson.
Last night Coulson actor Clark Gregg revealed the first finished images from the upcoming 1:6 scale figure based on his likeness as seen in The Avengers. Previous images depicted a prototype head that was not painted. As you can see via the finished product below, the paint job makes all the difference in the world.
It looks like Coulson will come with a total of five hands, a pistol, Captain America trading card deck, cell phone, walkie talkie, S.H.I.E.L.D. folder, and the S.H.I.E.L.D. prototype gun that he blasts Loki with. It doesn't look like there will be a Sideshow Exclusive item included.
The reveal of these images leads me to believe the Hot Toys S.H.I.E.L.D. Agent Phil Coulson figure will go up for pre-order literally any day how. He could go up for sale today or a couple weeks down the line. Cross your fingers that Hot Toys keeps the price under $200 like they did with figures for fellow S.H.I.E.L.D. agents Hawkeye, Nick Fury and Black Widow.
View or order more Hot Toys The Avengers 1:6 scale figures including Iron Man Mark VII, The Hulk and more at Sideshow Collectibles.