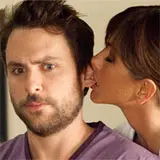 Warner Home Video has announced the R-rated comedy Horrible Bosses starring Jason Bateman, Charlie Day, Jason Sudeikis, Jennifer Aniston, Colin Farrell, Kevin Spacey, Jamie Foxx and Donald Sutherland has been assigned an October 11, 2011 release date on Blu-ray and DVD.
Horrible Bosses was part of the big summer R-rated comedy blitz at the box office. It opened to over $28 million its first weekend in theaters back in July, and went on to haul in $114 million at the end of its theatrical run.
For Blu-ray and DVD combo pack release, Warner has inserted an additional 8 minutes into the film that promise "new hilarious moments" in what is being called the "totally inappropriate edition." This extended cut will be available in addition to the original theatrical cut on the disc.
There are five total bonus features included that total around 30 minutes of material. In addition, the combo pack will include an UltraViolet Digital Copy available to download via Warner's computer cloud network.
My Least Favorite Career
Surviving A Horrible Boss
Being Mean Is So Much Fun
Deleted Scenes
Making of the Horrible Bosses soundtrack
The Horrible Bosses Blu-ray and DVD combo pack cover art is below. Look for Amazon's pre-order link to pop up any day.