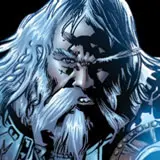 Anthony Hopkins jumps from one fatherly role in The Wolf Man to another in Marvel's Thor. As Odin, father to both Thor and his mischievous brother Loki, Hopkins' paternal responsibilities will not only be over his children but the entire kingdom of Asgard.
"I don't just play a father," he told the L.A. Times. "I play the god-father."
Hopkins was quite open in talking about how he is portraying Odin in what will be the fourth film as part of Marvel's "Avengers" series. In many ways, Odin's approach to parenting and life is not unlike his own.
"He's a stern man. He's a man with purpose," Hopkins continued. "I play the god who banishes his son from the kingdom of Asgard because he screwed up. He's a hot-headed, temperamental young man — probably a chip off of the old block — but I decide he's not really ready to rule the future kingdom, so I banish him. I'm harsh and my wife complains and I say, 'That is why I'm king.' He's ruthless, take-it-or-leave-it. Women are much more forgiving; men are not so forgiving. I know in my life, my karma is, 'If you don't like it, tough, move on.' And I move on. I'm a little like Odin myself."
We would have liked to catch a glimpse of Hopkins as "stern" Odin by now but Marvel and Paramount have been perfect thus far in keeping all imagery under wraps.
Source: L.A. Times