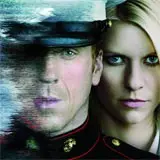 Showtime is in the early stages of producing the second season of their hit drama Homeland, and the first hints at what to expect were shared yesterday at the Television Critics Association's winter press tour.
Showtime president David Nevins warned to not assume that Season 2 will pick up the "day after" where Season 1 left off. He also said the complex relationship between Brody (Damian Lewis) and Carrie (Claire Danes) has "only just begun." When addressing the "justified skepticism" the show faces in Season 2, Nevins said the writers already have some clever answers to ensure the new episodes will successfully one-up those from Season 1. Their goal is to keep the show "one step ahead of the doubting Thomases."
Speaking of Homeland Season 1, online retailer Amazon.com has begun taking pre-orders for the first season on DVD and Blu-ray. There's no release date or official announcement yet, but it's a safe bet to expect the Homeland home video debut to coincide with Dexter in either August or September.
Click here to pre-order Homeland Season 1 on Blu-ray for $41.99 at Amazon.com, 30% off the $59.99 list price.