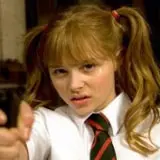 Lionsgate has released a new red band trailer for Kick-Ass via IGN that features Chloe Moretz proving why her character carries the nickname "Hit-Girl."
Matthew Vaughn's very R-rated look at nerds-turned-superheroes has been steadily building buzz since making a huge splash last year at Comic-Con. The recent public premiere at BNAT was met with overwhelming praise from the same crowd the film is designed for.
Co-starring with Chloe are Aaron Johnson and Nicolas Cage. Kick-Ass hits theaters on April 16.