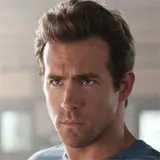 Not to be outdone by Paramount and Marvel's new high-res Captain America: The First Avenger images, Warner Bros. has released cleaner versions of the first The Green Lantern images originally scanned and circulated online from the print edition of Entertainment Weekly.
The Green Lantern is directed by Martin Campbell and stars Ryan Reynolds, Blake Lively, Peter Sarsgaard, Mark Strong, Tim Robbins and Angela Bassett, several of whom you can spot in character below. It takes flight in theaters everywhere on June 17, 2011.
Click any of The Green Lantern images for the high resolution version.