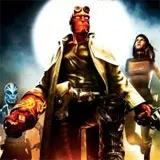 Konami is offering gamers the opportunity to put on their own Right Hand of Doom this week with news Hellboy: The Science of Evil for Playstation 3, Xbox 360 and Sony PSP is now shipping to stores nationwide.
Hellboy: The Science of Evil comes perfectly timed to coincide with next month's theatrical release of Hellboy II: The Golden Army.
In Hellboy: The Science of Evil, players will embark on an original storyline with input from input from Hellboy creator Mike Mignola.
Players will assume the role of Hellboy to battle the Nazi and supernatural forces of Hermann Von Klemp, or play as Abe Sapien or Liz Sherman in a cooperative multi-player mode.
Ron Perlman, Selma Blair and Doug Jones have all lent their voices to the characters of Hellboy, Abe and Liz, respectively.
Click here to shop for Hellboy: The Science of Evil on the console of your choice at Amazon.com.