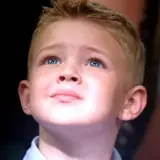 The faith-based box office smash Heaven is for Real starring Greg Kinnear is heading to Blu-ray, DVD and Digital HD on a release date of July 22.
Heaven is for Real was produced for an estimated $12 million and nearly doubled that amount in its opening weekend with $22 million. To date it has grossed over $88 million at the box office and over $90 million when factoring in international sales.
Sony is presenting Heaven is for Real on Blu-ray in 2.4:1 1080p video and 5.1 DTS-HD Master Audio. The package will also include the film on DVD and Digital HD, as well as the bonus features below:
Creating Heaven (Blu-ray exclusive)
The Making of Heaven is for Real (Blu-ray exclusive)
Colton Goes to Heaven
Deleted Scenes
Pre-order Heaven is for Real on Blu-ray combo for a discounted price> at Amazon.com.