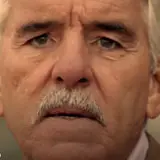 HBO used the Boardwalk Empire: Season 2 premiere to offer a first glimpse at their upcoming series Luck, and now they are tapping the Boardwalk season finale for a bigger Luck sneak preview.
Following the Boardwalk Empire: Season 2 season finale on Sunday, December 11, HBO will air the Luck pilot in its entirety. The official Luck series debut will not take place until January 29, 2012.
Luck stars Nick Nolte and Dustin Hoffman in the world of competitive horse racing where there are "those who participate in it, and those who profit from it." Gary Stevens and Tom Payne co-star with Deadwood creator David Milch and director Michael Mann serving as co-showrunners.
Here's the Luck teaser trailer that debuted back in September.