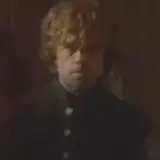 Good to their word, HBO offered a sneak peek at this Sunday's new Game of Thrones Season 4 trailer via a series of five Vine videos earlier today. Because they're on Vine they are naturally incredibly short snippets, but do offer a glimpse into a few key scenes coming up this spring.
The first tease features Kit Harrington as Jon Snow in the midst of a massive battle at presumably the wall and presumably against the Wildlings. It ends right as he's ramming his sword into some poor chap. Next is a contemplative Danerys looking quite worried about something.
It's back to action in the next tease as riders in the woods hack at another poor chap. These could be the Wildings making their way to the wall. The fourth tease is the one fans have been waiting for as newcomer Pedro Pascal as Oberyn Martell aka the Red Viper is aggressive in a high stakes sword fight.
The final tease is Peter Dinklage as Tyrion Lannister, being led down an aisle with his hands cuffed. Readers of the 'A Song of Ice and Fire' books will know why, and the rest of us will have to wait until Game of Thrones Season 4 premieres on April 6 at 9/8c on HBO.
Remember, the full Game of Thrones Season 4 trailer will premiere at 8:58pm on HBO this Sunday, and it will show up online within seconds of its on-air premiere. We'll be sure to pass it along once it's live.