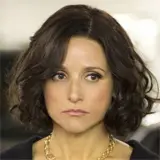 HBO wasted little time in ordering up 10 episode renewals for a pair of freshman series, Armando Iannucci's Veep starring Julia Louis-Dreyfus as Vice President Selina Meyer and Lena Dunham's young adult ensemble drama Girls, despite either drawing substantial ratings through their first few episodes.
Girls, which stars its creator Dunham in a story about twenty-somethings dealing with friends and relationships in New York City, just wrapped up its third episode on Sunday with ratings right around where the series debuted at 858,000 total viewers and a 0.4 rating in the 18-49. Through three episodes and multiple airings of each, Girls has attracted a gross audience of 3.8 million viewers, or about the same number as a single episode of HBO's Game of Thrones. With Girls costing considerably less than Thrones to produce and what looks like a small albeit loyal core audience in place, HBO is satisfied enough with their return on investment to keep the girls busy for another season.
Julia Louis-Dreyfus and Veep have taken advantage of a political year to rack up 3.7 million viewers through two episodes, as opposed to three that Girls needed. Its series premiere ratings were 1.38 million viewers and a 0.6 in the 18-49 demo. As the elections season heats up, Veep could be in a positions to slowly adding viewers rather than shed them.
The second seasons of Veep and Girls is expected to premiere in the second quarter of next year. The current seasons are ongoing and can be caught up on via HBOGo or jumped into on Sunday evenings.