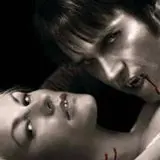 HBO has confirmed that the second season of True Blood is locked in for a Blu-ray Disc and DVD release on May 25. That is just ahead of the True Blood Season Three premiere date sometime in June.
Details are still sketchy but we can confirm that the Blu-ray set will span five discs and include exclusive bonus features. Tech specs will clock in at 1.78:1 1080p video and DTS-HD Master Audio.
The official announcement with a complete list of bonus features is expected to be made any day. You can already pre-order a set of True Blood: Season Two on Blu-ray or DVD from Amazon.com.