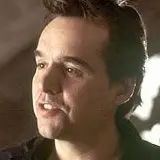 What if the man behind Harry Potter and the Sorcerer's Apprentice and Harry Potter and the Chamber of Secrets had directed Twilight? Would it have made even more cash from a distanced mainstream crowd than it did?
In an interview with MTV, director Chris Columbus confided that he received a script during the early stages of adapting the Twilight novel into a film. Instead of jumping on the opportunity he admitted, "…I was doing something else" and turned it down.
Missing Twilight and perhaps even The Twilight Saga: New Moon had he knocked the first film out of the park is no skin off Chris' back. He has kept plenty busy with I Love You, Beth Cooper and The Lightning Thief, currently in the casting phase.
Twilight could have been a lot less cheesy and "cheap" in feel had Chris come on board. His pull might have even warranted a bigger budget and scope. Too bad, really.