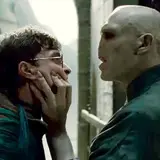 Harry Potter and the Deathly Hallows Part 2 starring Daniel Radcliffe, Emma Watson and Rupert Grint easily claimed the all-time midnight opening record by amassing $43.5 million when the clock struck 12.
The previous record was set last summer when Summit's The Twilight Saga: Eclipse collected $30 million from its devoted fanbase. The third Twilight film went on to earn $68 million its opening Friday, a mark that Harry Potter and the Deathly Hallows Part 2 should easily "eclipse." By this time tomorrow, I'll be writing about Harry Potter blowing past The Twilight Saga: New Moon single-day record of $72.7 million that was set back in 2009.
Deathly Hallows Part 2 had been tracking off the charts in the week preceding its release late last night. Warner Bros. was continually revising pre-sold tick sale numbers which at last count was somewhere in the neighborhood of $30 to $40 million. Fandango reported record pre-sales that included 6,000 midnight showings selling out prior to Thursday. In total, 93% of Fandango's total business today at noon was attributed to Harry Potter.
Overseas, Deathly Hallows Part 2 went on a tear before the midnight debut in North America. At last count on early Friday, international ticket sales stood at $82.5 million. Add in the midnight showings here and you're looking at $126 million without the benefit of a weekend day in the tally.
The big record Deathly Hallows Part 2 is aiming for is the three-day opening weekend mark of $158.4 million currently held by Warner Bros. The Dark Knight. Thanks to a nearly 4,400 screen count with 3,000 of those screens in 3D, Harry Potter's finale is currently on pace to put the caped crusader in his place. If that happens, Warner Bros. will own the top two opening weekend box office grosses of all time.
While Deathly Hallows Part 2 continues to topple box office records, you have to wonder how long it will be able to hold them. The Twilight Saga: Breaking Dawn Part 1 and The Twilight Saga: Breaking Dawn Part 2 are coming up, as is The Dark Knight Rises. All of these films will look to take back what was briefly theirs.
I'll be back tomorrow morning to update where Harry Potter and the Deathly Hallows Part 2 stands after its first full day in cinemas here in North America. After the big $43.5 haul from midnight showings that sent exhibitors scrambling to add early morning screenings, I'm thinking that Potter's Friday business will approach the $90 million mark. Many tentpole films would be ecstatic to earn that in their first weekend, much less their first 24 hours.