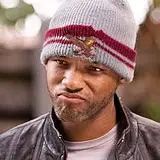 A gluttony of poor Hancock reviews (read our partially favorable review) haven't kept audiences from rushing to the theater to catch a glimpse of Will Smith in tights.
Peter Berg's new anti-superhero flick managed a cool $6.8 million its opening night and another $17.3 million on Wednesday per estimates at BoxOfficeMojo.com.
The two-day take of $24.1 million puts it on pace to hit the magic $100 million mark by the holiday weekend's close. With no "new" competition to face off against this week, Hancock should sail into triple-digit sales.
The $17.3 million Wednesday take is the 14th best all-time beating Will Smith's own Men in Black. However, Men in Black II and Independence Day brought in more in their mid-week holiday debuts.
The all-time Wednesday opening crown still belongs to Harry Potter and the Order of the Phoenix. The fifth Potter flick raked in a whopping $44.2 million on its opening day.