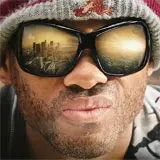 In Sony's Hancock starring Will Smith, a drunken superhero becomes a public enemy after causing more harm than good to the community around him. It didn't get the greatest reviews but did pull in a hefty box office take and was one of the most successful films of the summer.
So why no love for Hancock on Blu-ray? I don't mean love from Sony who is offering up the unrated cut in a swanky Blu-ray edition on November 25. I'm mean love from the Amazon.com shoppers who have kept other summer blockbusters firmly planted in Amazon's Blu-ray bestsellers list.
Hancock's special effects and thunderous audio are tailor made for Blu-ray. Yet the title is nowhere to be found in Amazon's top 10. Or 25. Or 50. Or even 100. This is after Amazon just lowered the price from $28.95 to $26.95.
Hancock has its flaws, sure, but there's little excuse for it to not break into the top 100 Blu-ray bestsellers list at Amazon. Did Amazon selling I Am Legend for $18.95 throughout its pre-order window set a precedent for future Will Smith movies? Possibly. Either that or no one knows Hancock is even available yet.
Now you know, and if you're interested in securing a copy of a decent popcorn ride on Blu-ray, you can place your pre-order for Hancock right here.