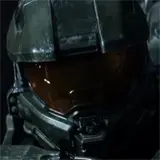 Master Chief gets his Spartan armor in the official Halo 4 launch trailer directed by visual effects artist Tim Miller and produced by David Fincher.
Dubbed 'Scanned,' the trailer sees Master Chief as a captive of the Forerunners who scan him for information. From the scan we get a glimpse into Master Chief's life before he became a Spartan, from his time as a youth spent with his mother, to painful procedures, to the moment he dons the armor for the first and presumably last time.
This trailer makes me wonder how much of Master Chief's backstory will be addressed in Halo 4. Thus far the mysterious Spartan warrior's identity and backstory have been kept secret. I suspect we will get some neat twists and turns to the Master Chief saga with Halo 4 launching what is expected to be a new trilogy under new developer 343 Industries.
Maybe the Hollywood influence in this new live-action footage will get studio executives thinking again about how amazing a Halo feature-length movie could be if handled by the right people. The success of big-budget superhero films may just get Halo back on the drawing board.
Halo 4 should be one of this holiday season's top-selling video games when it arrives on November 6.
Pre-order Halo 4 with free shipping at Amazon.com and earn an instant $10 video credit for doing so.