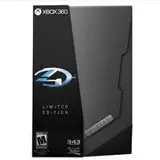 Microsoft's Halo 4 Limited Edition is back in stock at Amazon.com at a price of $99.99. If history is any indication these won't last long as it sold out swiftly in pre-orders before the game launched.
Halo 4 Limited Edition includes the War Games Map Packs, Bonus digital content through Xbox LIVE, early access to six Specializations, the Special Edition of Halo 4: Forward Unto Dawn that runs 90 minutes with new footage not seen in the web presentation, and a UNSC Infinity Briefing Packet includes a Spartan armor customization schematic, information about UNSC weapons, and an introduction to the massive ship UNSC Infinity.
If you want a Halo 4 Limited Edition, go get it.
Click here to buy the Halo 4 Limited Edition for Xbox 360 at Amazon.com, while supplies last.