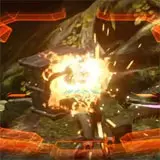 343 Industries have released a second behind-the-scenes look at the making of this holiday season's most anticipated Xbox 360 game, Halo 4.
When 343 Industries set out to work on Halo 4, their aim was to create a true full-blown sequel to Halo 3 that both gave fans what they expect from the franchise as well as what they don't. Accomplishing the former is easy via the inclusion of Master Chief, Cortana, the Covenant and so on. The latter is where the real trick lied and where 343 Industries looked to the past to help shape the future.
It's no secret that the main protagonists in Halo 4 are the mysterious Forerunners themselves, known as the Prometheans. This ancient race and their weaponry were created from the ground up in Halo 4 to give Master Chief a new threat unlike anything he has faced before.
The following behind-the-scenes video explores the inspiration, design and execution of the three Promethean types as they appear in Halo 4. In it you'll get to see some of their unique tricks that will make taking them on a challenge (the Promethean Knight looks especially difficult), and some of their weapons that will soon prove to be favorites in multiplayer adversarial modes. I call dibs on the Promethean pistol that can charge up and deliver a shotgun burst.
Halo 4 will make its big debut exclusively on Xbox 360 beginning Tuesday, November 6.
Click here to secure your pre-order copy of Halo 4 for a discounted price at Amazon.com.