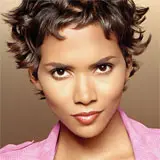 Halle Berry may be needing a full-time nanny for her nearly 15-month old daughter Nahla before too long.
According to The Hollywood Reporter, Berry and Fox are in discussions for the actress to star in The Surrogate. No deal has been struck but there is interest on both sides.
Paul Verhoeven is already on board to direct and develop the thriller about a family who hires a surrogate mom that turns out to be a psycho. Berry would presumably play one of the parents though her star power draw may put her into the psycho role.
If Berry is signed, The Surrogate would mark a return to film for both her and Verhoeven. Berry has not featured in a film since 2007's Things We Lost in the Fire, and Verhoeven has remained relatively underground since 2000's Hollow Man.